(This is the second in a multi-part series on this topic. You can see Part One here.)
Cheryl Suliteanu asked:
How do we educate families about the ways in which they can support their children, without insulting their trust in us to do what's best, and while not placing blame?
Katy Ridnouer, Janice Fialka, and Joe Mazza provided their guest responses in
Part One
of this series. Today, Jane Baskwill, Julia Thompson and Bryon V. Garrett share their thoughts.
I hope readers will continue to contribute their ideas, and I'll be highlighting those comments next week.
Response From Jane Baskwill
Jane Baskwill is the Associate Professor at Mount Saint Vincent University in Nova Scotia. A former classroom teacher and school principal, Jane is the author of many professional books and articles for teachers, as well as the author of several children's picture books. Her latest professional development book is Attention-Grabbing Tools: Involving Parents in Their Children's Learning:
In order to operate from a position of trust rather than blame, schools--and teachers in particular--need to establish a positive relationship with families. Teachers need to create a supportive environment in which they demonstrate, through their words and actions, that they value parents' knowledge as their children's first teacher. By keeping the child at the center, all parties can feel they have a role to play and something valuable to contribute to the child's learning.
It is important for teachers to recognize that not all families can support their children in the same way. Getting to know families' strengths and needs is a key starting point:


Create opportunities to informally get to know families (meet and greet, invitation to brief program put on by children, etc.).


Send home short surveys that gather information about families' preferences for keeping in touch, interests, and availability.


Introduce yourself to parents in a friendly yet professional manner. (If you have children, hobbies, pets, share that.) Let parents know you have something in common: their children's education.


Once you find the best way to make contact with parents (phone, e-mail, letters, in person), try to make contact with families regularly to share "good news." Brief anecdotes that let families know you are tuned in to their children's learning goes a long way toward building and maintaining a positive and long-lasting relationship.


Provide information about supporting children's learning in a variety of ways (workshops, take-home activities, printed directions, videos, etc.).


Stay positive and keep in mind that relationship building takes time. Continue to invite parents to participate, even if attendance or responses are low at first. Don't give up on families. Sooner or later, you will find a way to engage most.


Try to find unique or fun ways to reach out to families. Workshops will be better attended when parents can participate alongside their children. Make-and-take sessions allow you to deliver tips and information about supporting children's learning while parents are creating learning materials to use with their children at home. Videos that demonstrate an activity or explain a concept can be put online for families to view on their own.


When reaching out to families for whom English is not their first language, try to have printed matter translated and find someone in the community to act as a translator during workshops.


Keep in mind that there will be a wide range of literacy levels among families. Design workshops and print materials so they are user-friendly, with lots of illustrations whenever possible.
It doesn't take long for a teacher's reputation to spread. Teachers who are seen as going the extra mile for parents and children will find that parents will go out of their way to collaborate with the teacher on matters that affect their children. Once teachers begin working in this way and establish methods of reaching out to families, it will get easier and preparation will take less time. If grade levels or groups of teachers work together, they can share resources and ideas, and keep each other motivated.
Although this might seem like a lot to do for a teacher who is already stretched, getting parents on board and creating a positive working relationship will have a positive impact on children's learning and will make the parent-teacher experience more rewarding for both parent and teacher.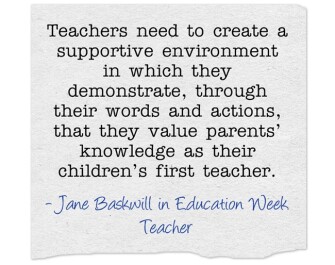 Response From Julia Thompson
Julia Thompson is a teacher, consultant, and best-selling author of several books for teachers including The First-Year Teacher's Survival Guide. Thompson maintains a Web site for educators: a blog, and offers advice on Twitter at @TeacherAdvice:
Developing a mutually supportive relationship with the families of our students is one of the most important responsibilities that teachers have to fulfill. When parents or guardians and teachers work together well, everyone wins. In this delicate partnership, it is up to us to make it as easy as possible for the families of our students to communicate, collaborate, and support our efforts at school.
Although the needs of our students will vary from grade to grade and from subject to subject, there are some common-sense practices that can make it easier for us to collaborate respectfully and successfully with the families of our students.


Never suppose that parents or guardians don't care about their child's success. It can be easy to fall into the trap of thinking that ill-behaved or unprepared students come from homes where school is not valued. Have a conversation with a parent or guardian before jumping to conclusions.


Listen carefully when parents or guardians talk to you about their children. Not only is it respectful and conducive to a successful partnership, but you are likely to learn a great deal. You will also find that the families of your students will find it easier to support you if you have taken the time to take what they have to say seriously.


Be the first to reach out and make a point to do so in a positive manner. Send home newsletters, notes, and e-mails. Make phone calls early in the school year to introduce yourself. It should be easy for the families of your students to get in touch with you in a variety of ways.


One of the biggest complaints that many parents and guardians have about teachers involves problems that could have been solved with earlier interventions. Don't allow problems to escalate. Call home while a problem is still manageable. Be specific in asking for help when you want family members to support your decisions at school.


Communicate early and often. Actively seek collaboration. Make it easy for parents and guardians to be informed and supportive. Let the families of your students know what's going on in your class and how they can help. When families are informed, they will be more like to be able to help students with needs such as studying for tests, getting the materials needed for projects, or sending in field trip forms.
These four may seem obvious, but their effectiveness in creating mutually positive relationships makes them worthwhile to include: be as sensitive and fair as you can in dealing with your students, return all phone calls promptly, send home frequent progress reports, and make sure parents and guardians know that they are always welcome to visit your class.
Response From Bryon V. Garrett
Byron V Garrett is Chairman of the National Family Engagement whose purpose is the improve student outcomes through meaningful family engagement. Byron directs the innovative schools program for Microsoft and is a former k-8 school principal. He is the author of The ABCs of Life:
It's a new day for the profession of teaching when it comes to family engagement. Research clearly supports the notion that when families are involved and engaged their children will be more successful in school. This means there should be more meaningful interaction with the entire family when it comes to supporting students' success. Also, you may need to suspend your pre-determined idea of what constitutes a family because the historical family structure no longer exists. Now you will find several people involved and it may be necessary to meet and know all who are related and unrelated to the student but involved in their academic journey.
The best way to gain trust is to listen and take notes as they will be helpful for subsequent interactions! The first conversation must be initiated by you; and, if possible, conducted prior to any formal gathering the school has planned.
During your initial meeting, you should acknowledge that you've read the child's file and you know some of his/her challenges and strengths. Also, ask the parent if they need a copy of their child's file. They are entitled to have a copy but often don't and they don't realize they have that right. Once you've given a summary of what's been kept on file, you listen to what the parent/guardian has to say about a certain incident or performance issue, and share that you view the family as a full partner in the education process and that their support will be crucial to the success of the student. Be careful as the educator to not allow any negative information to determine your relationship with their child. Use the information as intelligence but be diligent about starting off with a clean slate when it comes to the children in your classroom. Knowing how "bad news travels fast" in a school building you must remain vigilant and not allow any amount of badmouthing from other teachers and support staff to influence your opinion about a particular student. If you can accomplish that and establish a rapport with the family then trust-building can begin.
However, in order to maintain equal parts of trust and pedagogy you will need to keep it "real" with the family. The student needs to be included in the conversations because the entire family should understand the consequences for "Little Johnny's/Janie's" behavior or poor performance in school. With all the horror stories in the news about crimes being committed by young people it is time out for skirting around the issues. It would be more insulting to a parent's trust if you knew something was brewing and you didn't call it to their attention. The statistics on reading scores of 3rd graders that are being used to determine their likelihood for dropping out of school and/or being incarcerated makes honest discussions tantamount; and when the facts are presented in the beginning blame should be the least of the concerns. Both educator and parent must be willing to deal with the harsh realities of remaining silent--and this applies whether a student is exceptionally talented or challenged.
Be transparent and tell your story about overcoming an obstacle to your success. Most importantly, let them know you are human too and you don't know everything, which is why you need their input--that working together is all for the benefit of their child. Help parents understand that they are their children's first teacher and guide them with resources and information that help determine learning styles and how to spot difficulties in their child's learning process.
Create an activity that involves parents before the regular Parent-Teacher Conference. For instance, having a "Develop A Portfolio Night" where you invite parents to bring their student's best work from the previous grade and you can show them how to organize it as a showcase--instead of that old shoebox or plastic bag. This activity will not only instill pride within the parent for their child, and within the child too, but it will also provide an opportunity for families to share information within the family and among other families. The other benefit is the portfolio can be used as a conversation starter and highlight work that otherwise may go unnoticed.
Many factors may affect when and how often activities and discussions can happen. Therefore, use various forms of communication. You can't rest on sending a "broadcast email" or a generic letter home in the backpack. Also, providing hands-on instruction for your school's student and parent portals are useful because you cannot assume everyone is comfortable with technology or has access to the internet. The "education" for parents happens when you explain the standards for the current grade as it relates to the student's individual progress. Again, these conversations need to happen as often as possible, with all interested parties in the life of the student and should never include acronyms and policy jargon.
Once a parent respects you for "keeping it real" there will be no room for blame! Walking on eggshells because you don't want to have the tough conversations will only create distance in a relationship that needs synergy in order to survive. And like my grandma used to say, "You can't make an omelet without breaking a few eggs!"
Thanks to Jane, Julia and Byron for their contributions!
Please feel free to leave a comment sharing your reactions to the topic or directly to anything that has been said in this post. I'll be including readers' comments in a post next week.
Consider contributing a question to be answered in a future post. You can send one to me at lferlazzo@epe.org.When you send it in, let me know if I can use your real name if it's selected or if you'd prefer remaining anonymous and have a pseudonym in mind. You can also contact me on Twitter at @Larryferlazzo.
Anyone whose question is selected for this weekly column can choose one free book from a number of education publishers. I'll be highlighting one particular publisher every two months, and will be starting the new year with ASCD.
Just a reminder -- you can subscribe to this blog for free via RSS Reader or email.... And,if you missed any of the highlights from the first two years of this blog, you can see a categorized list of them here. You won't see posts from this school year in those compilations, but you can review those new ones by clicking in the monthly archives link on this blog's sidebar.
You can also see annual lists of my most popular posts.
Education Week has published a collection of posts from this blog -- along with new material -- in an ebook form. It's titled Classroom Management Q&As: Expert Strategies for Teaching.
Look for Part Three in a few days...
The opinions expressed in Classroom Q&A With Larry Ferlazzo are strictly those of the author(s) and do not reflect the opinions or endorsement of Editorial Projects in Education, or any of its publications.